Welcome to my free gift. Thank you for finding me through the Up Your Game Giveaway.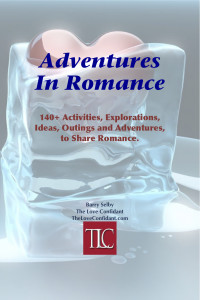 I will send you the link to download your very own copy of Adventures In Romance, which contains over 140 activities, explorations, ideas, outings and adventures to add spice and fun to your romance.
Once you enter your information below, you will receive a confirmation email, and then I will send you the download link right away. I will be asking for your gender and relationship status, so I can serve you more effectively. You will appreciate receiving more tailored and useful support from me.
AFTER you enter your information to receive the eBook, I invite you to browse my site and find out more about me and my work (and also learn about my services, programs and enjoy my videos, etc.), by using the Navigation Menu above.
I'm Ready For Adventures In Romance Now!
Enter your first name & email, and I will send you the download link. You will also receive my regular WEEKLY LOVE newsletter.